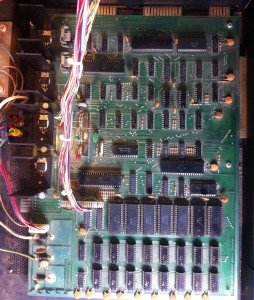 Click to Zoom in
This is My Pet Monster, I found him abandoned on the street — left out in the rain, sometime in 2001. He was pretty scratched up and started to rust.. which after a little scrubbing (and some beer for me) he ended up getting a paint job. There are a lot of Pet Enthusiasts out there who will cry when they see the paint job. But after a little cleaning, prodding and solder (recently) he turned on!
Now, looking at the tag on the left it says 2001-8. I live in Canada, this machine was found in Toronto. I also know after pulling out the motherboard — a sticker says : Ryerson Polytechnical College (which is now Ryerson University). But the exterior is not a PET 2001 Series, it has no tape drive and has the graphical keyboard. But all pictures I've seen of other pets that are the 2001 series after the Chicklet Keyboard have a different motherboard.
PET Logic Assy : 320132
Is it weird or …1023 bytes free, seem strange?
— After some chats with Mike Stein (TPUG Email List), I've swapped around 2114 ram chips, to find the bad one(s). I basically got it down to two chips, then he suggested switching around the video ram, one at a time. If you get garbage on the screen, then the chip is bad. In the end both chips are bad. So I get ~6k of ram working :).
— Arg as I was writing this, the PET just shut down. And its not coming back. Noo….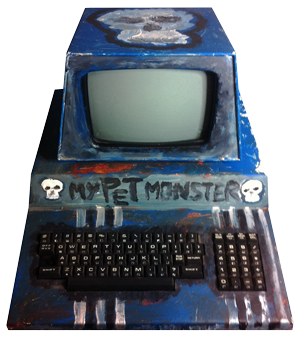 Well This is boot up…
CH(A) (TOP) is Pin 1 off of the 2114 SRAM in the first bank.
CH(B) (BOTTOM) is 6502 pin 1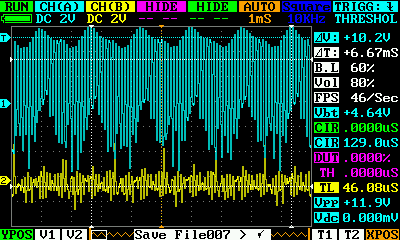 Then goes this post boot.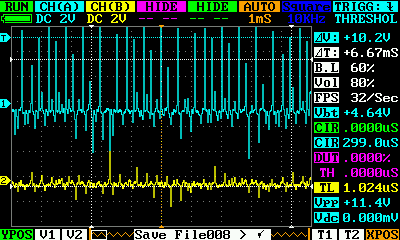 Well, it's got a pulse.. hah.
I think it's actually the display system itself. The monitor is not powering up or showing the signs when it's powered off.. The Fading white dot..
I really wish this was a ROM problem, messing with CRT's is deadly if you don't discharge them properly. I knew a guy at a workshop who died form one of the massive TV's that were built into furniture. So.. Hmm..
It looks like the tube doesn't power up at all. With an induction amplifier, aiming it at ANY CRT will be noisy as hell. My 1084 monitor generates a lot of noise, and a PET monitor should be loud… not a peep. I do not want to open the back of the screen.. eek.
Well, as long as I stay away from the end of the Tube, for now I should be ok 🙂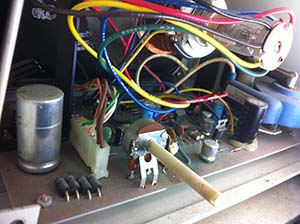 As you can see below, everything looks ok.. nothing obvious..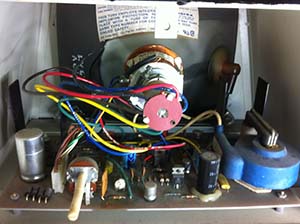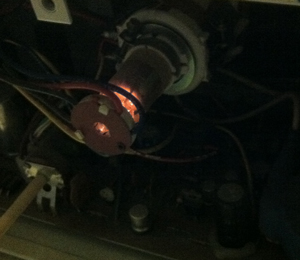 This last pic is with the light off, to see that the tube is actually got something going on.. The tube is lit when the power is on, just not enough to show something.