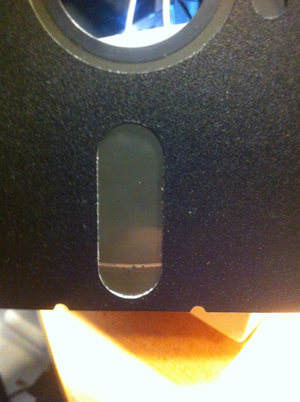 Wow. I pulled out the 400+ floppies, a few disk drives and the ZoomFloppy. While I do my day to day programming work, I run a script with Powershell/OPENCBM and started imaging my collection. So do some work, insert a disk, hit enter then continue.
I got through about 100 floppies and started to notice disk errors popping up. I used my newest drive, which was a 1541-II. So I popped the 1541-II's lid and checked the head. It was filthy. Got the head cleaner, cleaned it off and continued on. The 1541-II's are easy to clean. But then I thought.. hey the 1571 has warp mode transfers. faster transfer means done faster..
So I hooked the 1571 drive up, tested the transfer. 1571 versus 1541-II. 1571 wins speed wise.
The second disk I inserted, the copy sounded like power tools in use. Which prompted me to stop the process and check the drive. Looking at the Disk after was a shock. I have never had this happen ever.. that's a solid groove that you can see through. I'm scared of the 1571 disk eater now..