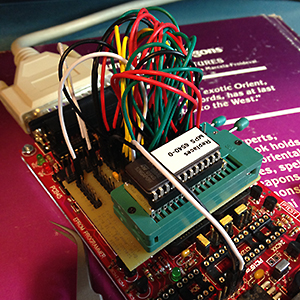 Making ROM's has been on my mind for a long time. Every so often the need arises, or so I have told myself. A while back I bought a Willem PCB45 EPROM burner, thinking I'll be burning ROM's every day till I die. It went in a box and life got in the way. Life got in the way of a lot of my projects.
It seems that in burner market, there are hordes of these guys, well not all these guys. There are PCB4C's, 5's, 3B's and others. Look up PCB45 and its really hard to locate any info. My cheap (serves me right) no manual or power adapter off of Ebay purchase was starting to piss me off.
Download the latest version and you are out of luck. I needed to go back to a version that supported my hardware. Then you get the host of other problems of living in a modern world, software designed for 32bit XP which needs an actual LPT port. You know the first five minutes of plugging in a USB cable and wondering.. is this thing going to detect? Ahh its for power only.
Managed to make a few C64 carts and PETROM's. Looking into a few Atari Carts and maybe a GVP SCSI 4.15 upgrade for my Amiga.