Well, this has been fun. Lets start with juggling soldering irons is only good for the dexterous — which strapping a brick to my solder station is looking like a better idea every day.
Yuri got a batch of upgrades.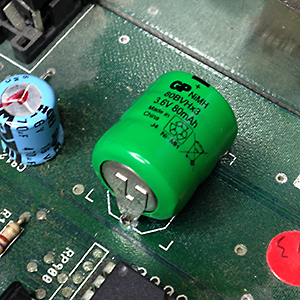 Started with removing the battery, which was getting fuzzy. After reading all the debates about coin batteries or cordless phone batteries — I decided to use the original battery type. I made a small metal fold under the mainboard, so the battery could just snap into place, then be removed if needed. Hard to see and its actually jammed in there too. I have never taken the motherboard out of that machine, but after it was on the bench for a while I noticed that its pretty bendy, enough to pop the 68000 out of alignment. Many Yellow boot screens, then push push push.. ahh.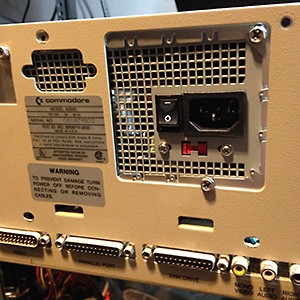 I had a spare ANTEC PSU around, decided to get that installed. A jumper change on the main board, easy. I cheated this time and bought a power adapter. I had fun building the other PSU — but the adapter was cheap and I ordered a few other little things from amigakit.com (so why not). ATX PSU's of course have a different component layout — but the ANTEC's come with a handy metal jig/adapter you can screw on. A few extra holes here and there and the PSU was mounted.Not the most elegant mounting in the world, but not bad either. Fan's in modern PSU's seem to vent up not out the back, so I mounted the PSU slightly lower in the case. I'm going to try to find a slot based fan, to help with the heat in the machine. But power up!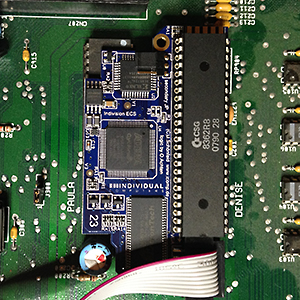 Who doesn't hate interlace flicker. My eye's were dying, along with one of my 1084 monitors. So the next addition was: Indivision ECS flicker fixer VGA adapter. I have to say, that OS3.9 and a reasonable resolution (sans le flicker) is pretty good looking (I used WB 1.3 in 4 colour mode for most of my life). I was always jealous of 2.04 ROM's (friend had an A3000), but I loved my setup in the day. I wish I had taken the plunge earlier. Anyways, the card plugs into Denise's slot and then Denise piggy backs on top. A grounding wire finishes up the install. A note to Denise pulling, use a screw driver — chip pullers are not designed for big ones. Just use a small flathead and pop the chip from each side and rock it out. The Adapter card, really really is a tight fit and requires a little bit of man handling. In the end, you can watch from an 1084 and the VGA at the same time. The back and forth is pretty amazing. I keep looking at my WB screen on the LCD — I really do like it.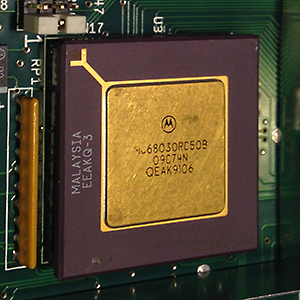 3 parts: 68030 (50 mhrz with MMU), 68882 companion and 50 mhrz crystal. This mod, I have been dying to do for a while — but didn't have the balls. Who doesn't want a 20% boost in speed. After getting "Smell the rubber.. I wanted to know what was next :). Yes, burnt PCB 🙂 No not really. Looking at the board, this particular GVP supports 50 mhrz so the base hardware can take it. Getting the crystal off the board (as it was soldered in place) was the worst time I have every had with a PCB and soldering iron. It was impossible to get out. I was trying to save the crystal in case something happened. I have 3 of them (2 x 50's and a spare 40) but a certain point, a pair of thin side cutters and the snip snip, off  it goes. A new socket, yes 🙂 pop in a crystal and some jumper configs (which some didn't make sense) — Wham! Power up 🙂
While the board was on the table, I kept screwing with the MegaChip2000 — which is still not working. So that's going in a box until I can figure things out with that.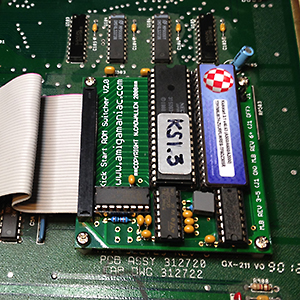 The ROM switcher went from 1.3/2.04 ROM's to 1.3/3.1 ROMS. I had decided to burn a copy of OS3.9 and give that a run. The install for that was slow. Well the CDROM was slow, part of me was wondering it floppy swappin' would have been faster. Getting the Hydra and the serial port card to go was interesting. The hyperCOM4 card is going to be an eternal pain.. Always keep copies of drivers.
Configuring OS 3.9 was fun, but also interesting to compare modern OS's versus anything Amiga. AML-C for copy, is annoying to do — who uses left control-c to copy on a PC? I'm sure there is one guy out there, but really.. getting my UI and operation reflexes took a little longer than I thought it would.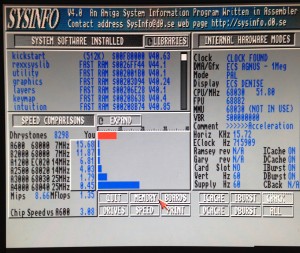 Ok, now the sysinfo 🙂
>>>>>Acceleration!
hehe, something to note — this shot it taken from an LCD. Looks great 🙂