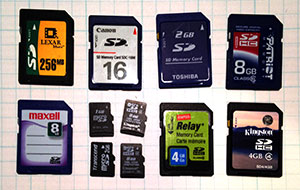 * Update *
It's not a matter of compatible cards by the looks of things. My TC seems to have some timing issues. I've had this problem before with a firmware update — but fixed in a later update.
Speaking with Alastair about what the issues could be it ended up that the latest version of the Minimig core wasn't working — but older versions did. He mentioned a new build sometime in the future to test out the timings.
* Old News * 🙂
Well as of today, I still can't seem to find an SD card that will run the Minimig core correctly. A while back I had one, but it got crushed. I threw the card out and started fresh (had backups), but nothing I do seems to work. So these are the cards I have tried, formatted FAT32, FAT16, exFAT, with various clsuter sizes and with smaller partitions (for the 8GB cards) or using the complete size of the SD card.
The same cards will work with MSX core, or load files for the TC64's C64 file browser. A few other people have mentioned issues with particular cards. I'm looking around for other cards to try…