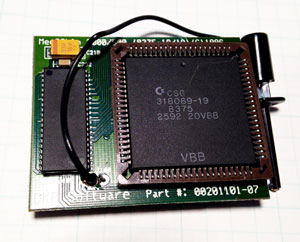 DKB Software's MegAChip 2000/500 (NTSC), which when installed will give you 2MB chip ram. I have an Amiga with the 1MB  Angus, which I thought would be a relatively easy upgrade (as long as you have PLCC pullers).
I got this as part of a bulk sale a while back. So its not new; also by the scratch on the Super Fat Angus in there.
Every time I mount this in a machine (doesn't matter which), I get a garbage on the display when the Kickstart logo shows up. I've only tired in 2 A2000's, due the fact of mounting it in a 500 would require some one way modding.
I connected the trace to either Gary or the 68000, neither works. I looked at the bottom and the connector and housing looks ok, maybeI am missing something obvious (besides it being broken…)