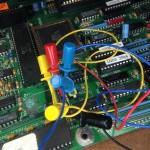 The A3000 I am working on has a few issues, the first was NO CLOCK reported by SYSINFO and other tools. This is, of course, true, as the battery had been removed after I unboxed this machine. After the battery was removed, the gross damage to the motherboard by the leaking battery is obvious in the picture to the left.
I cleaned the board as best I could, noticed that the back of the board was OK… somehow. I didn't want to mess with the area around where the battery was, as there was a lot of damage there and I didn't want to add to it.
I temporarily jumped a CR2032 in a holder (the BLACK and RED leads),  to get get the clock powered. I then went into the Prefs and set the time. After a reboot, the system recognized the clock — but the time had not incremented while the machine was off.
The clock crystal was not outputting anything which ended up being a connection from C192 to R193 was lost. I jumpered them with the BLUE lead. After checking all the connections out I found C190 was not connected either, so I jumpered it with the YELLOW lead.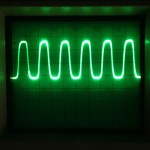 As opposed to a flatlined output from the Oscillator, I got a signal.
I loaded up the system, reset the time powered it off and waited a few minutes. Turned it back on and the time was in sync. I went out for dinner, had a few drinks and came back — powered it up, the clock still working.
I know the clock is not so important in this day and age, as NTP can handle the time sync. But who wants a broken machine?
Next on the list… Display warm up… sometimes the display shows something, sometimes it takes a few power cycles to get it going…