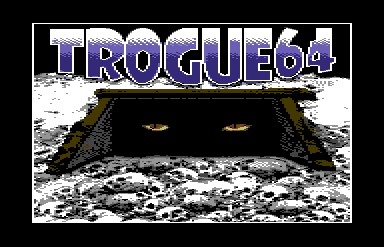 Yes… It is in a state for review –so download it here: Trogue.
You'll need VICE or compatible emulator. It runs best in NTSC, but I spent a lot of time getting it stable under various PAL systems.
Sometime in the '80s, a zombie outbreak plagued the local town. A daring group of heroes lured the undead to an abandoned mine. On the 64th level, they blocked the trogue (drain) and flooded the mine.

Recently, a depth alarm has gone off — the mine is draining. Someone has popped the Trogue!

Start from the lowest part of the mine, activate 9 pumps to flood the ravenous undead before they can escape. Each pump raises the water level, so move fast — or join the ranks of the undead!

Trogue64 Intro
All the levels are randomly generated, with a basic AI for the monsters and turn-based movement/combat. You level your character up through combat, which in turn boosts your maximum hitpoints. There is a timer though, water rushing in as the player activates the pumps on various levels. Too many pumps at once and risk drowning, not enough (say 9) by the end and you can't escape.
There is a crowbar for extra damage, a medkit to heal, oxygen tanks for those water moments and a holy hand grenade when the denizens of the mine overwhelm you. Sometimes there is a clue that a pump exists on a level or just an old plan for that area is just lying on the floor (it might be a little outdated).
Watch the border water meter, it shows the current water level and the mine level.