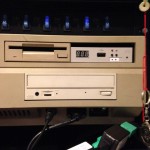 Well, the Gotek Floppy has been running relatively well. I dragged a bunch of ADF's over to a USB stick (with the menu ADF) and it was pretty much working.
I wish the drive face was at least the right size, to fit flush with the enclosure.
I've noticed a few problems here and there with some images; also when there isn't a USB mounted you get a dead icon on the screen for drive DF0. I'm testing a variety of floppy images to put it through the paces. I've even made a 3.x Emergency ADF and mounted it.